HTML and CSS
Do you own a web design and development business? Could you use extra help translating your brilliant designs into web pages? Maybe you have a looming deadline or a demanding client, and you could really benefit from assistance building web pages.
Internet Fusion has staff on hand available for short-term projects. We will work with your graphic designer and turn psd files into gorgeous,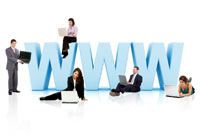 functional web pages, running on CSS and HTML. We create website style sheets that you can easily understand, decode, and manage in the future. And did we mention we're affordable?
Why wait? Contact us for more information today.