Welcome to Play Dates with Zoie!
Quality Time for Your Dog When You Can't Be There
While there are various dog services out there, Play Dates With Zoie offers the convenience of home pick up and drop off.  Services are all inclusive. There is no extra cost to play with,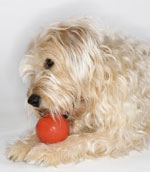 cuddle and give your dog individual attention. Play Dates With Zoie provides individualized quality, fun play dates for your dog that will be customized to meet your dog's personality. No need to leave your dog out alone and unattended.  Your dog will be happier with less stress in the structured environment provided.
Play Dates With Zoie is the perfect solution if you would you like your dog to be in a "day care" setting but cannot fit this into your busy schedule.  If you feel your dog needs the socialization  with other dogs, play time, and stimulation, or if your dog is shy or doesn't enjoy a large day care setting, then Play Dates with Zoie is the perfect solution.  After a play date your dog will be happy and more socialized. Experts say that socialization is an important ongoing part of all dogs lives. It doesn't stop in puppy hood, they need it all their life. Well socialized dogs tend to be more friendly and less fearful. Without adequate socialization a dog may become fearful and may develop hard to solve problems like biting and dog aggression.
Play dates include:  
-Pick up and drop off
-Reinforcing basic obedience
-Socialization
-Fun agility
-Tricks training
-Puppy socialization
-Dog park outings
Play Dates With Zoie is fully Licensed, Insured, Red Cross Pet and CPR and First Aid Certified.